Day 9
We had pre-booked two tours before leaving the States. The first one was a Hop on Hop Off double-decker bus. We had done this in Montreal and thought it was indispensable for getting to know a city.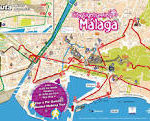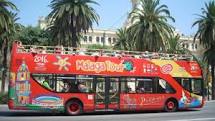 In Malaga, however, it almost became an interruption, partly because the main part of the city is so walkable a car would be a bother, and the city tour on Hop On, Hop Off, is largely unnecessary for the visit. However, once we found the right HOHO bus stop–a challenge which wasted a whole two hours, we boarded, got a circling tour of even the non-walkable areas up in the hills, and were actually quite pleased to see a part of the city we would have missed–not that any of that part was a part we needed to do anything other than view it. The tour is narrated, and that is also nice, and we got some good pictures. And, you can literally hop on and off, so the length and destinations are completely up to you. For around $20 pp, it is a very good deal. In Montreal, it saved us many hassles and dollars finding parking etc. In Malaga, this was less important, as I said, since we could walk to almost everything we wanted to see–cathedrals, markets, tapas, architecture, so it was more of a city overview this time. Had we gone to the Picasso museums, we may have used our HOHO to get around to them. We ran out of time for that. Another reason to re-visit. You really can't get too much of Malaga.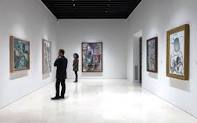 The second tour will always been our most memorable day in Malaga–the cooking class put on by Spain Food Sherpas.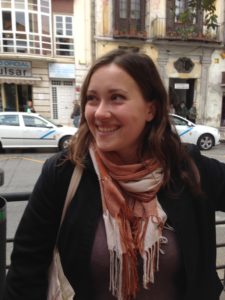 Our guide, Simone, not from Spain, but quite knowledgeable, met us at the designated start point, and our first stop was the farmer's market, Mercado Central Atarasanas, right in the main part of town by the beach.  The architecture of this place alone is worth the trip.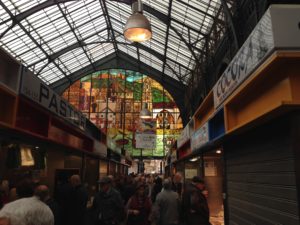 All I can say about this Mercado, is WOW! There wasn't anything there I wouldn't have shopped for if I had had our condo kitchen back at Los Amigos, but alas, we were in Carlos V hotel, a tiny little room without any refrigerator or microwave. But here is one of the most colorful and tempting booths–believe it or not LARD–flavored for any sauces or soups you may want to make. We so wished this were our hometown.  
After picking up a few things for our cooking class, we were whisked back to the Sherpa venue, to be instructed in making some tapas dishes–among which was the Spanish tortilla–a frittata-like egg dish with potatoes and veggies. Hunky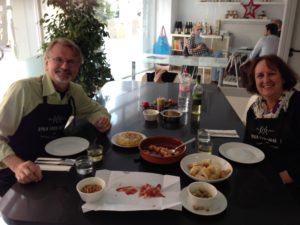 Hubby did the honors, learned how to make this wonderful food, and has since been showing it off to almost any Sunday guests we have back at the river house. Good investment! The other tapas foods were olives, ham, bread, and some of the fruit from our farmer's market excursion.
The Spanish-speaking chef did not speak English, but J managed to get the instructions right, and all turned out very well. We then went to table to enjoyed enormously.
Spain Food Sherpas at Plaza de la Merced, offers more than one type of cooking class, and I imagine we will sample another one next time we visit Costa del Sol.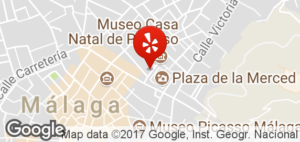 We return to Boston on Day 10, and expect to live on these memories until the next time we are blessed to visit Spain.