Day 5 – Granada and The Alhambra
Our second tour, on Monday, November 30 began at the bus stop on the Los Amigos Beach Club property, and we boarded around 8:30 a.m.m, which for Spanairds is early.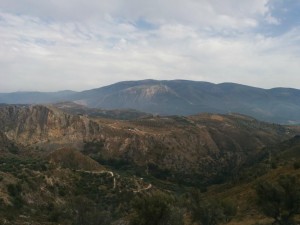 The windy roads up to mountainous area weren't too bad, the mountains beautiful, and our excitement at going to see the famous Alhambra took over, even with the hour and a half bus ride.
We had seen Anthony Bourdain's travel show on Granada, where he featured Alhambra, but also the plethora of tapas eateries and their generous free tapas with drinks offerings (which on a bus tour, we did not have time to find). But, the main event was Alhambra, so we stayed focused. After all, tapas is available throughout Spain, so no problem.
We arrived at Alhambra around 10a.m. and were greeted by a guide who conferred with our bus tour guide to take one of our divided parties to the venue. It is good to have a tour, especially to have tickets and no-line entrance, so we were grateful that we had an easy transition to the majestic buildings and gardens.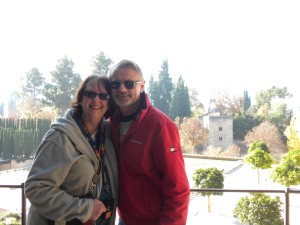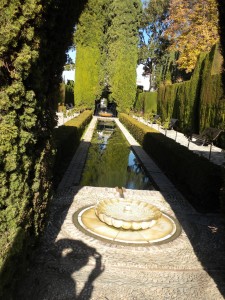 We began in the gardens, and oh they are wonderful.
The garden designs and groundskeeping are breathtaking, even in November, and the pathways, gates, fountains, and plantings, have been placed where tourists can get beautiful views and pictures.
This "red fort" was built to be a city within a city, with fortresses, towers, and walls to protect and defend its royal inhabitants.
The first three palaces were built for Muslim royalty (Comares, Palace of the Lions (builit by Mohammad V, and Paertal Palace, and then a fourth was added for Carolos V.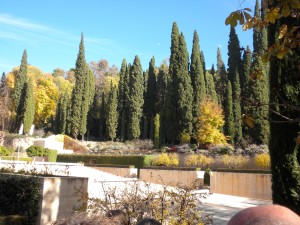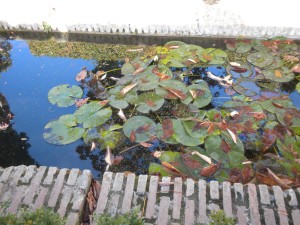 After the gardens, there was the architecture of the Alhambra itself, a mix of 14th Century Medieval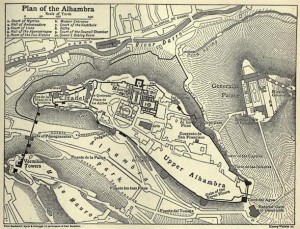 Islamic and Christian palatial art, architecture.
There is no way to show in mere pictures, the grandeur of these palaces, their arches, ceilings, doors, and floors, not to mention the sculptures.
Our education from Bourdain's travel piece had us on the lookout for the geometric designs that overwhelm in person, and cannot really be captured here. The tiles and archways alone are amazing:
Consider the Palace of Lions, famous for its twelve lions with fountains that were engineered with hydraulic systems. Jim Gordon's photo captures the beauty of the chamber where guests had trouble moving on to other areas.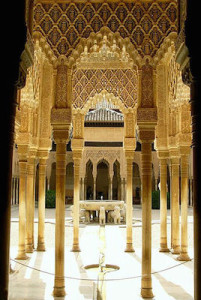 Another magnificent area is the entrance to the Muqarnas Chamber, with photo credit here to Vaughn Williams.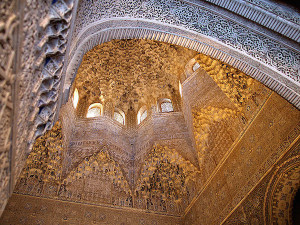 You can read, you can see travel programs, you can take pictures, but you cannot believe how different it is to see in person.  Really this is a wonder to be on the short list for places you have to see.
We left Alhambra on our bus and ventured into the city of Granada, where we decided to leave the group and find tapas on our own. We found a dimly lit bistro where we ordered oxtail tapas, as my husband had in Ronda. I didn't repeat my fried sardines, willing to try the oxtail, which was delicious.
After lunch we sauntered over to the department store, near where we would catch the bus, and in a hurried shopping time, selected leather purses and a shirt to remind us of Granada.
We got to our bus in plenty of time and enjoyed our memories as we returned to Los Amigos Beach Club.