Day 3 – A side tour to Ronda and Marbella
We pre-booked a tour to Granada to see the Alhambra, and decided that would be Monday's excursion. But after talking to Irene at the front desk yesterday, we decided on two more tours–one to Ronda in the mountains and one to Gibraltar.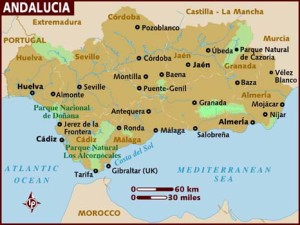 We considered also going to Tangiers, but after reading the reviews on experiences others had there, we decided to forget battling vendors and being accosted for Euros and coins, and thought we could do this on a return trip if we wanted to chance it.
So today, our trip to Ronda started at a congenial 8:30 a.m. bus stop in Mijas, on our timeshare premises, and we boarded thinking this was a completely spontaneous trip that we knew nothing about.
The mountain top city has deep historic routes, and the tour promised a visit to a bull ring, its museum, some wine tasting, beautiful vistas and historic architecture.
But, before we even thought about what we would find in Ronda, we were rambling through the coastal city of Marbella, where we would stop for a more leisurely visit on the way back.
Leaving Marbella, we took in the rocky road, curving highway and moderate climb to the 2400 ft. elevation of our destination.
About midway on the roughly hour and a half ride, we stopped at a tourist respite for a bathroom break and a chance for pastry and coffee, which was an efficient operation where coffee was delivered buffet-style, in cups for black espresso and in glassware for our cafe con crema. I didn't want to eat too much because I was still a bit unsure how well I would do if the mountain got steeper and the road curvier. But, I did opt for a flaky breakfast pastry in the end, and all was well on the rest of the ride.
We first got our bearings when the bus left us off at a terminal, and we saw that a walk through the city wouldn't be too daunting or mysterious, and we could probably find our way back. We decided, at first, to stay close to the tour guide, but he was not very engaged, and we were a bit disappointed.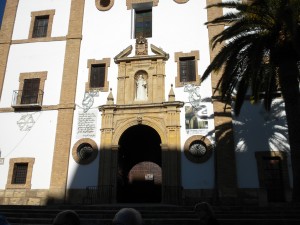 What we did not expect, was making new friends, originally from Iraq, and who now lived in England. N and L were doctors, who had fled Iraq rather than fight with those who would eventually ransack their towns, dig up graves of their ancestors, and make it impossible to return. This couple were gentle of spirit and had a deep faith in Jesus. They were surprised we shared their faith, as they had wondered if any Americans were thinking of end times and being prepared for what they believe will surely continue to be an upheaval for Christians and Jews. They were encouraged that we shared their faith and their concerns.
We continued the guided part of the tour, seeing the bull ring, which was built in a Neoclassical architecture in the late 18th century,  and the museum,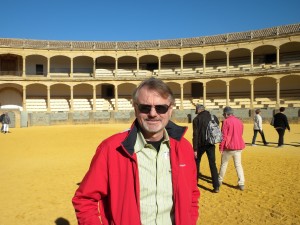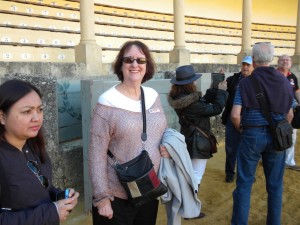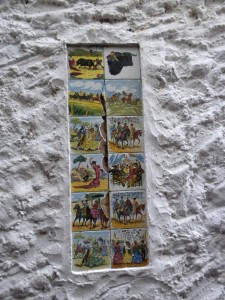 and hearing about how integral bullfighting is the the Spaniards and how revered the matadors are. The museum reflected that from the costumes, even an Armani designed matador costume, to the trophies and art. Entering the bull ring itself, there was an echo of times past and present in the air.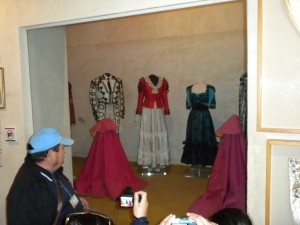 As we traveled to the gorge area to look down on the El Tajo River, we were given a history of the area.  
Originally settled by the Celts in the 6th century, Ronda was part of the Roman Empire, and by the 15th century was dominated by the Islamic peoples, until conquered and deported by Christians around the time of the Spanish Inquisition. You can feel, from the guides telling of the story, that Christians aren't the "good guys" in the minds of the Ronda conquered Spaniards, and the Christian influx into a city which had roots in Islamic architecture, thinking and people, was not welcome.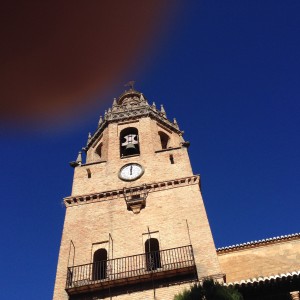 Ronda, like many areas of Spain, has a mix of Islamic and Christian influence, and the roots for both go deeply into everything from its buildings to its culture and food. Unlike many of Europe's cultures, Spain is a heady combination of so many extremes, it is impossible to take it all in in one visit.
There are three bridges in Ronda: Puente Romano (or Puenta San Miguel), Puente Viejo which is the old bridge or sometimes known as the Arab bridge and Puente Nuevo, which is the tallest, almost 400 ft. and overlooks the Tajos canyon, where some stories tell of Hemingway's For Whom the Bell Tolls, featuring Spanish Nationalist militants being thrown over Ronda's cliffs during the Spanish Civil War.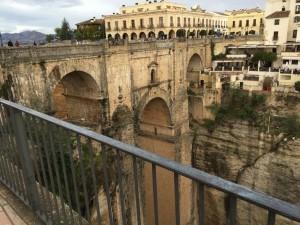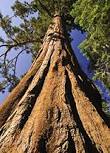 I suppose if we imagined ourselves in the Old West of America on a visit to a ghost town, or maybe a steamboat ride somewhere on the Mississippi, or even some of the Spanish missions in Texas, California, or New Mexico, we could get the rush of feeling you get when whoosed from the present back into these times, but really, we have nothing that feels centuries old, except the Rocky Mountains and the Sequoias.
But, it is hard to convey the extreme parting from the present one feels when enveloped in ancient history, surrounded by so much foreign information all at once.
We left the group to find a tapas lunch in town, and then strolled a bit by the bridges again, and talked to N and L about their journey.
When it was time to head back to Marbella and Mijas, we were so glad this was a tour we had booked.
In Marbella, we learned that this coastal resort in the Sierra Blanc is home or second home to many rich and famous, including the King of Saudi Arabia.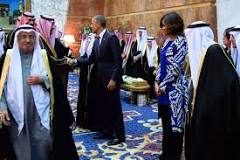 On our return to Marbella, we rushed through the city trying to keep up with the tour guide, while detouring to get some gelato, and peeking into shops, then trying to find our group again so we wouldn't be left behind for the bus ride back to Mijas
We arrived back at Los Amigos Beach Club, feeling overwhelmed and happy that we had entered into history with such magnificent sights.