Who would think we would find the best Asian cuisine we have experienced in six years in New England in Granby, CT. Yet we did.
As a former Southern California food critic, I have to say my New England choices for Asian cuisine have been plentiful but mostly disappointing–until this week when we happened into Han Asian cuisine in Granby.
This eatery was far and away the best Asian food we have had in six years here in Connecticut, and maybe one of the best anywhere in the best of's we have had in California, New York, Illinois, Wisconsin, and Massachusetts. We haven't been to China, but my ex is Chinese, so I consider myself somewhat of a connoisseur. The only one, perhaps better, or at least equal, was in Idyllwild, CA at a restaurant which boasted President Nixon's personal chef.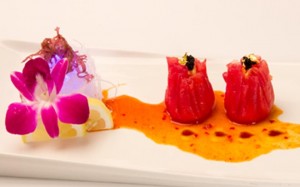 In Granby, at Han Asian Cuisine, Owner James Chen is intimately involved in everything about his patrons' dining experience.
We had a new server, Dana, who was a bit nervous about pleasing, but did a great job of making our evening pleasant.
James stopped by our table twice to make sure all was well, and to approve our up-charge for pineapple rice, with our two Chinese dishes which were usually served with plain rice.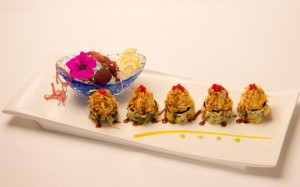 My husband chose a sizzling platter of vibrant, colorful steak, scallops and shrimp in a rich, brown oyster sauce that was so flavorful, I almost regretted getting my pork spicy coconut curry, which was also very tasty, especially with the pineapple rice to add a touch of sweetness to the spicy curry, also a colorful dish, served in broth in a soup bowl.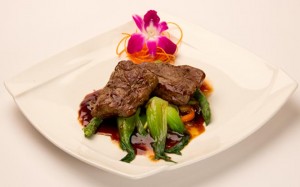 Both entrees were beautifully presented, and steaming hot, as was every dish we spied from other tables. The chef has the artistic flair Chinese cuisine is known for, and the food doesn't have that American mishmash so many refer to as Chinese food. This is the real deal in taste, freshness and artistry.
We dined on the patio, which on this balmy Thursday evening, made us glad we had just returned to our Connecticut home from the Valley in sunny (and hot) Los Angeles.
I am totally confident in giving an unqualified recommendation to Han Asian Cuisine to anyone wanting fine dining for Chinese, Thai or Japanese, including sushi, fare.
We didn't need a reservation on this Wednesday, but as the word spreads, I would bet on a weekend their will be a need for them.  Congratulations, James, for giving our region a gem of an Asian restaurant.
They even have free WiFi, but everyone I saw was busy eating their delicious food–not wasting time texting as at so many ho-hums places. We too, forgot our cell phones, and dined sumptuously.
We will be back–often.